Nicolet IS5, Fourier transform infrared spectrometer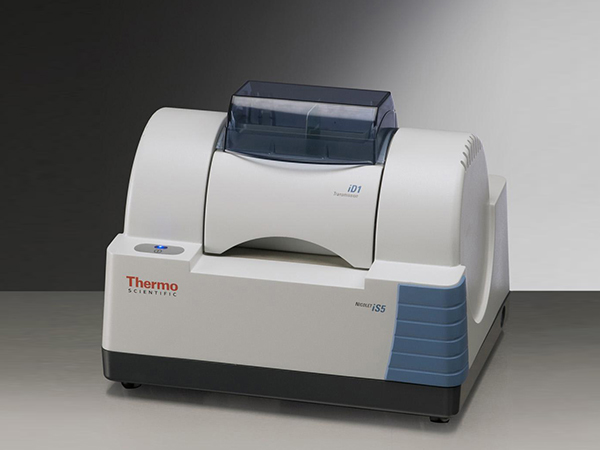 The lightweight, rugged design and small physical size of the Nicolet™ iS™ 5 Fourier transform infrared spectrometer are suitable for a wide range of analytical test environments: from busy laboratories to the floor of a production workshop and even in a warehouse, accurate and effective test results can be obtained.Nicolet iS5 Fourier transform infrared spectrometer
performance

It has high sensitivity and signal-to-noise ratio

It is easy to operate

Flexible sampling method

A wide range of applications

Unique optical system

Sealed dry optical design protects the instrument from moisture and solvent gas interference. The self-compensating dynamic collimator interferometer provides the instrument with the optimal luminous flux and the speed required for real-time analysis to avoid any misalignment. Overall diamond cutting, the optical elements for needle positioning to ensure the long-term stability of the instrument, to minimize maintenance costs.

Intelligent detection attachment

A variety of new high stability intelligent accessories with unique automatic identification, Settings, performance diagnosis and high sensitivity, provide a more convenient and reliable detection method and a wider range of applications.

OMNIC software package

Full spectrum acquisition, processing and analysis tools

● real-time display data collection and spectral preview

● customize toolbar and menu options

● user login password protection function

Peak analysis tools: peak area, peak height

● data processing, conversion and correction

● spectrum retrieval and spectrum library manager

● infrared spectrum automatic analysis and online wizard

● automatic atmospheric background deduction

● full-featured report generator

● quantitative and discriminant analysis package

● compatible with Windows®XP, Vista® and Windows 7

Unique multifunctional spectrum processing system

* QCheck material quality identification tool, with high precision identification function, can identify the drug crystal, different content of substances, substances belonging to different species samples.

* OMNIC Specta multi-component mixture identification software, with the function of automatic spectral separation and spectral resolution, can automatically identify the mixture of different substances, and give the information of the relative content of each component.

New product details

What's new: compared with other Nicolet Fourier transform infrared spectrometer, the Nicolet iS5 Fourier transform infrared spectrometer is designed to be compact, lightweight (10kg), space-saving, and has performance comparable to that of full-size spectrometer. Earthquake resistance, anti-skew; Super moisture-proof and anti-atomization Windows are designed for unusually wet experimental environment. The detector is DTGS detector with high sensitivity. The open architecture of the sample room can be matched with a variety of intelligent sampling accessories. The Nicolet iS5 Fourier transform infrared spectrometer is an excellent choice for balancing performance, price, and size.

The detailed information

Thermo Scientific Nicolet iS5 Fourier transform infrared spectrometer has excellent performance, suitable for product reliability testing, quality control, material identification and other analysis work. In combination with the highly acclaimed Thermo Scientific OMNIC ™ infrared software, which won the us R&D 100 award, the Nicolet iS5 infrared spectrometer provides a complete, innovative and simple solution for a variety of analytical tasks.

The lightweight, rugged design and small physical size of the Nicolet™ iS™5 Fourier transform infrared spectrometer are suitable for a wide range of analytical test environments: from busy laboratories to the floor of a production workshop and even in a warehouse, accurate and effective test results can be obtained.